To suit us, not someone else!!!
SIZING A PADDLE FOR LENGTH
Within reason, canoeists can adjust to just about any length of canoe paddle - and we tend to grow to love what we know, and preferences vary enormously - so what REALLY matters?

First up, we need to find a comfortable hand spacing. This should be whatever is "normal" for us. Our style will end up evolving to suit our paddle - so just get comfortable with a grip which is wider than shoulder-width but no wider than we'd want to do an old fashioned chin-up or press-up..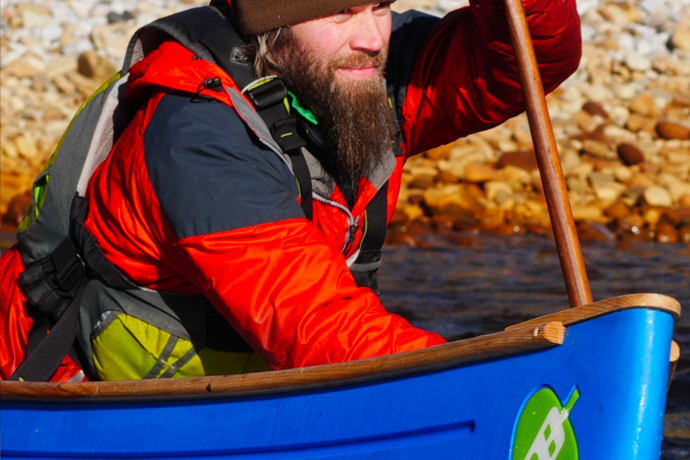 That's great. Now we just need enough "extra" shaft length below our bottom hand to get the blade completely in the water (and no more) at the start of each forward stroke. 
The length of "extra" shaft we need might change as we paddle more, but if we're sat on a seat, or even kneeling on a thwart, our lower hand is likely to be at least 8" / 20cm clear of the water (and maybe 12" / 30cm if we're a kid).
Do we all have the same reach as we wind up for each stroke? Of course not - and if we switch from sitting to kneeling, our reach is likely to extend further. That just means we go on the short side if we're mostly going to be cruising along but perhaps on the long side if we're mostly going to be kneeling (especially on white water).
Working out what we want - an example or two......
To work out what paddle to order, we simply add up what we require. For example, we may want:
Shaft for a comfortable grip: 28" / 71cm
Extra to the top of the blade: 9" / 23cm
Modern blade: 20" / 51cm
Total of the above: 57" / 145cm
What if we walk into a store with a standard 20" / 51cm blade in mind but then fall for a traditional blade that's 26" / 66cm long? Yup, we just add the extra 6" / 15cm and instead of getting a 57" / 145cm stick we get a 63" / 160cm stick.
What if we're a youngster? Well, our most comfortable grip on a short paddle might only be 19" / 48cm but with a heavier paddle, we might need to stretch to 21" / 53cm. Sadly, we might struggle to get our bottom hand out over the side of the boat and close to the water - so the extra to the water might be 12" / 30cm. This is pretty awkward for leverage so we'll REALLY appreciate a small, light blade!

If we're after a more performance orientated paddle we might prefer a lighter, stiffer paddle and we might insist on it being weighted evenly around the bottom hand...
This might be a straight-shaft paddle (for a kneeler) or a bent-shaft paddle (for a sitter) and if we're really getting picky we might want an oval shaft and/or a cranked shaft. 
As we move into higher-end paddles we may be getting into custom wooden paddles. These are almost always stunning to look at and can be absolutely wonderful to use. Look for timbers like red cedar and Sitka spruce (light and stiff) but with harder wearing choices on the tips.
At the top end of the market, we're more commonly looking at Carbon-Fibre paddles. These range from ultra-tough white water blades weighing in at less than 570g (20 oz) through to buoyant bladed, a foam-cored straight touring paddle which comes in at under 370g (13 oz). Bent shaft paddles can come in lighter still.