To suit us, not someone else!!!
CHOOSING A CANOE PADDLE
When we're out...canoeing, we can move around on the water using pretty much anything – but using a paddle which puts a smile on our face can add magic to even the best experiences.
A favourite paddle is like a favourite pair of shoes: comfortably familiar, reassuring in use and perhaps our preferred choice even where we might do better with another choice – and if we ask around, we find every imaginable preference!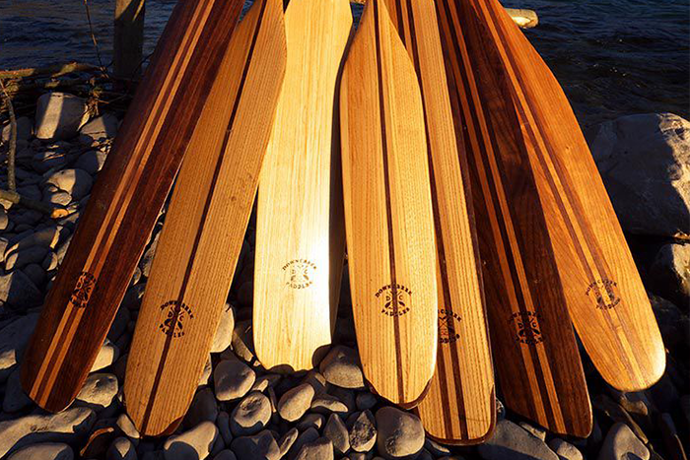 At one extreme, a few of us genuinely prefer "beater" paddles: cudgels which can be used and abused in every imaginable way and which is "good enough" for job one. Weight, balance and refinement? Forget it – but they're cheap, they work and we're not going to cry if one gets lost!
Of course, not all cheaper paddles are equal. Some are just aluminium shafts and flat, nylon or polyurethane blades. Fortunately, even at £60 we can get something more refined and at £80-£100 we're starting to look at paddles which enthusiasts will at least keep long-term as a spare..
If we're starting out, we might also consider stepping up to an mid-level paddle. These may cost an additional £50 or so but that's quite possibly the best investment any canoeist could ever make. So long as we make an appropriate choice we will be rewarded for many years to come!
So what makes an entry-to-mid-level paddle "appropriate" for us and for what we want to do?
What we want from a paddle could be warmth-in-the-hand (meaning wood) and refinement through the water (so a double-camber rather than a very flat blade) plus a nice bit of flex in the shaft (perhaps a single wood rather than a combination of woods), a "traditional" shape (maybe long and thin) and a particular finish (perhaps oiled or varnished)..
If we have aspirations to paddle rocky rivers and/or white water and we want a connection with the water that feels secure and powerful at all times we might go for a short but wide blade, and perhaps one that's curved or spooned. We might also go for modern materials, or at least for a wooden paddle that's been reinforced.
If we don't want to go traditional and care a lot about weight, efficiency and the balance of the paddle in our hand we might get drawn first towards the smaller (perhaps squarer) blade. That could be with a straight shaft (especially if we commonly kneel) or with a bent shaft (especially if we mostly sit) and at losing the flex.

We want a connection with the water that feels secure and powerful at all times we might go for a short but wide blade, and perhaps one that's curved or spooned...
Deciding on a grip, shaft diameter and blade size.
Grip preference is almost entirely a matter of aesthetics and comfort. Most of us settle on some form of "palm" grip for ordinary, everyday paddling. A "Tee" grip of some kind is more common on advanced white water. Key thing: whatever we choose should fit our top hand!
If we have large hands, we shouldn't need to worry about the paddle shaft diameter as staying loose with our lower hand should avoid any issues arising. Those of us with smaller hands just need to check we can grip comfortably as even a slightly oversized paddle shaft can lock (and perhaps strain) our wrists.
Last but not least, smaller bladed paddles tend to be lighter and better balanced. They encourage a good stroke and a higher cadence (stroke rate) and put less stress on our bodies. Larger bladed paddles are sometimes preferred when we are bullying our fully-loaded canoes around whilst surfing downwind or in big white water.