Whilst no outfitting is a substitute for skills and experience, some outfitting solutions do keep more options open than others, especially if we ever end up in a situation we haven't anticipated, or if we're unable to make our plans work as expected.
WHAT DO WE WANT TO DO?

If we plan to go two-up in a tandem, will we want space to use the bow seat with our legs straight? Might this be critical to good times with friends?
If a mix of solo and tandem touring comfort and convenience matters most, should our touring-outfitting be minimal, or really, really versatile?
Have we thought through whether our kits is going to be Lashed, Leashed or Loose? Each option has significant implications!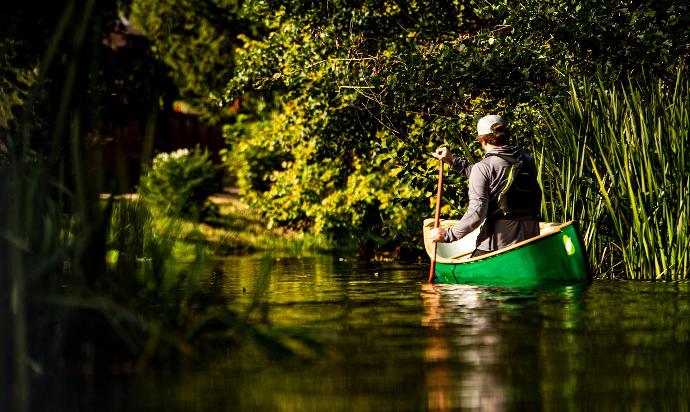 We may find ways to set our canoe up in one way for pretty much everything we want to do, perhaps because our needs are not so varied, or because we have the skills to compensate. Or we might find ourselves adapting our outfitting to suit as we switch environments: for comfort, for safety, for convenience, or otherwise.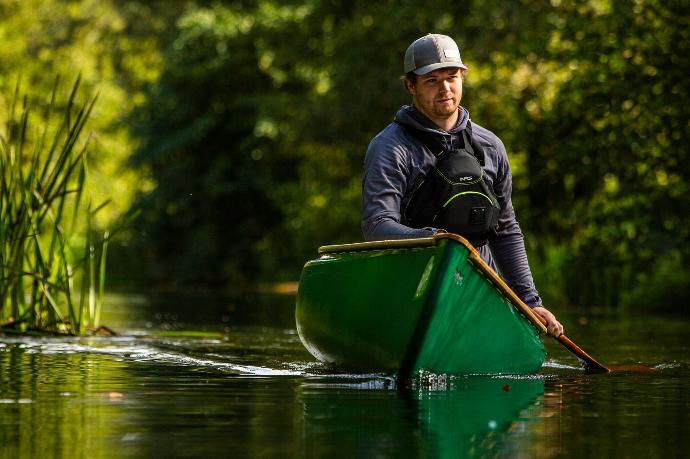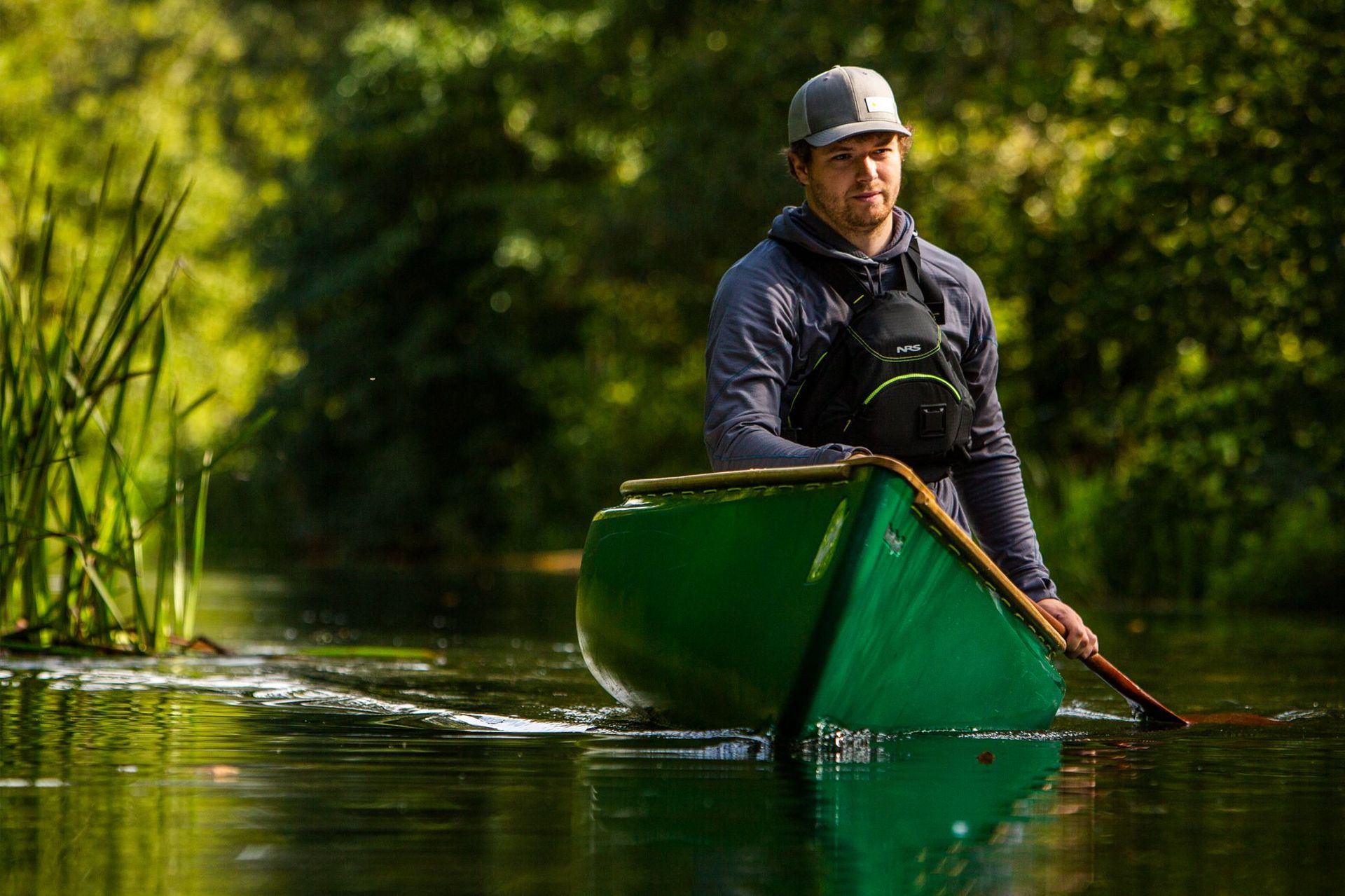 WHAT IF WE ARE JUST STARTING OUT?

Outfitting is mostly just setting our canoe up to make life as convenient as possible in all the situations we might be envisioning, including in situations where we're sorting ourselves out after a swamping or capsize.
If we're touring in places where we can just stand up, or where we can easily swim to the shore… pretty much anything might suffice. For our personal safety, we might simply think of ourselves as wild-swimmers.
As supplied by the manufacturer, traditional canoes will generally float rather than sink, but that doesn't mean they will support us if they are swamped.
For open water canoeing, away from a shoreline, we may want our canoe set up to make it easier for us to self-rescue, or at least for others in our group to help us in the event of an incident. In deep water, our last resort might be climbing aboard the swamped canoe and then using a bailing device (e.g. see photo). 
If we're starting out, we might manage with nothing more than our PFD, our canoe and our paddle, but even on a first trip, we might like to carry a portage trolley, a dry-bag or barrel for personal effects (e.g. keys, mobile phone, camera, spare clothes), and a spare paddle.
MOSTLY SOLO, SOMETIMES TANDEM?
Going solo in a tandem canoe? Maybe a smaller bow airbag could be in all of the time, but we can always compress a larger bow airbag when needed.
If we're going solo on more exposed open water, we might want to take a big stern airbag as well as a big bow airbag. With maximum flotation, handling and bailing a swamped canoe is certainly easier!
Carrying kit? If we've got things set up nicely, we may be able to inflate airbags over the kit to hold it down - but that's a Loose, Leashed or Lashed decision!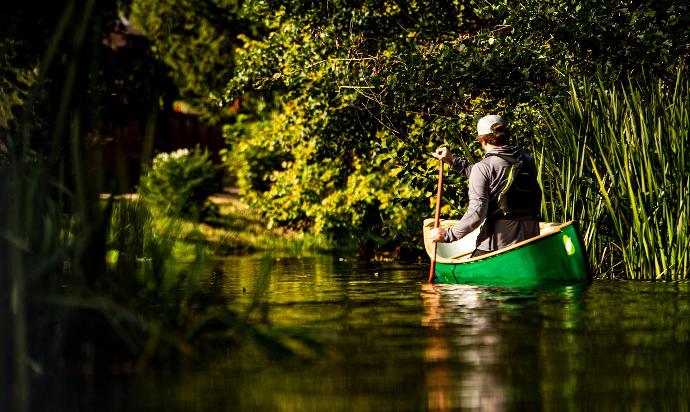 Our top tips? If we're into variety in our canoeing, lacing all along the canoe provides quick-and-easy options. Adding a few well placed D-Rings and carrying a convenient air-pump to the put-in allows us to rearrange things in a matter of minutes. All part and parcel of the versatility of a traditional open canoe?
Over 30+ years, the Open Canoe Sailing Group has established that side airbags maximise self-rescue options when solo or tandem canoeing on open water - allowing a capsized canoe to be righted with minimal need for bailing (perhaps 50mm/2" of water).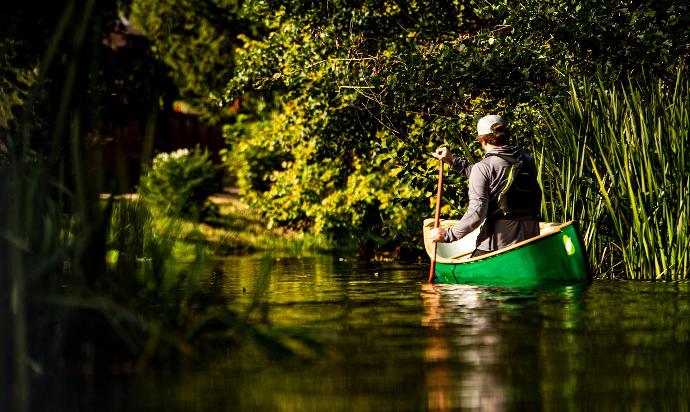 EASILY ADJUSTABLE OUTFITTING?
Adjusting how we set up our canoe can be straight-forward... or a complete pain. The easier we make it, the more likely we are to do the right thing when adjusting things might make a significant difference.
If we're wanting to be self-reliant on open water, we might want an airbag in each end to support us whilst we bail if we ever swamp.

If we move the bow seat far enough back, that might still allow us to sit with our legs out, but that might be hugely compromising our paddling position.
If we outfit with full length lacing and assorted d-rings, we maximise flexibility for lashing in gear and for fitting additional flotation. A cleat under a yoke or thwart can make sailing or towing easier. Endloops are great for attaching painters, and painters can sometimes be adapted to form a bridle or for rafting canoes.
Regulations, guidelines and expectations vary around the world, and even within local networks, but in some locations, authorities or fellow canoeists may expect additional flotation to fitted, and to be sufficient to support the occupants in the canoe when it is swamped.
SPECIALIST OPEN WATER OUTFITTING

If we are out-and-out open water canoeists, we might add almost anything that sea kayakers conventionally use, from small compass and waterproof chart case to a VHF radio and personal locator beacon.

Open water canoeists operating in regulated waterways may also carry a foghorn, 
navigational lights, a GPS, electronic charts and/or a radar reflector.
At specialist open water extreme, we can outfit with dedicated sailing or dinghy cruising fittings ranging from a sailing thwart and mast foot, leeboard and rudder to outriggers and a boom-tent.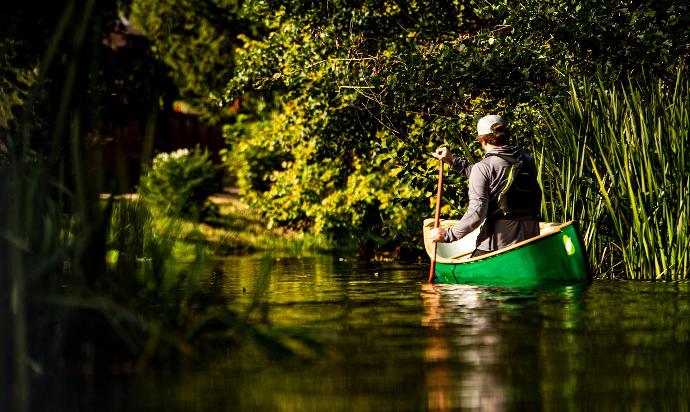 Dedicated "Trad" solutions for group use on open water might also include a system for rafting two canoes together and poles, lines, fittings and a spinaker for rafted, downwind sailing that's easily de-powered. 
Last but not least: our outfitting ought to work for how we want to go about Handling and Transporting Our Canoes. If we're portaging, what might need to be held tight, or easily removed? Do we need to accommodate a trolley? Do we need painters as tie-downs?