Balancing out what's best next…
How do we balance the big smiles in the special moments and keeping smiling in the tougher moments?
If we're going to stay motivated we will need a canoe which allows us to stay smiling most of the time. If we're mostly looking at a future of getting out on our own, this might take precedence even if that limits our other options.
If we're mostly going to be in a particular environment (river or open water), we generally do better putting that first - and yes, if we develop our skills, we can use an open water canoe on the river!
Compare Choosing a Touring Canoe with Choosing a "Trad" Canoe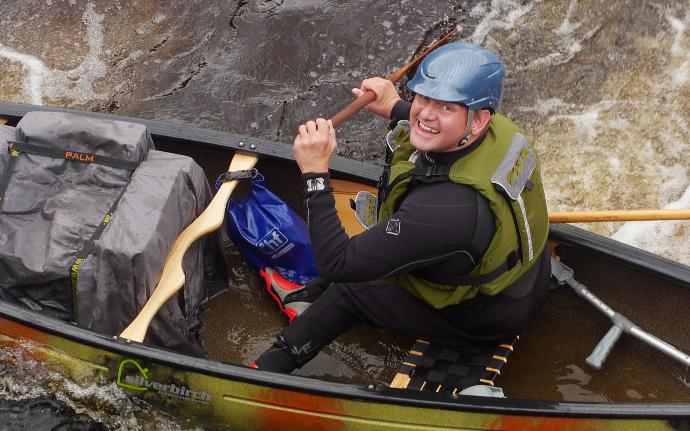 Of course, the canoe which would work best for us for most of the time may not work well enough for key moments. This is most commonly seen in the solo-tandem conundrum, or with the day tripping and annual big trip conundrum, or with the "with kids" and "without kids" conundrum - or if we occasionally want to go into much more challenging environments.
If our rare events are key, compromise must follow as overloaded canoes are really not a great idea, and nor are canoes which we can't handle. As ever, personal temperament makes the biggest difference - and we do best when we choose based on what smiles matter most to us!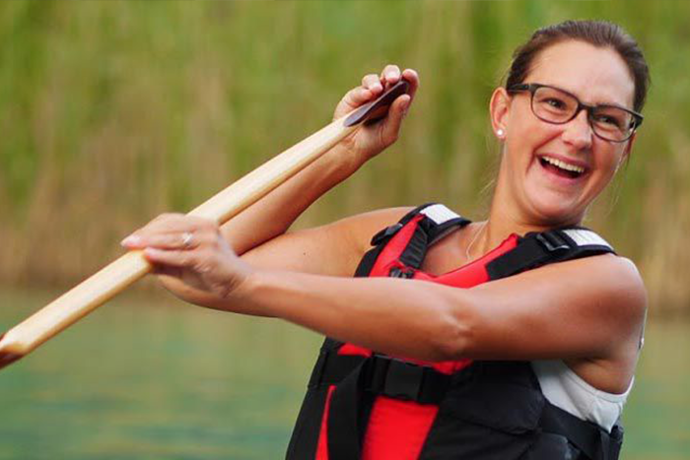 WHAT GIVES THE BIGGEST SMILE NOW?
Which canoes will put the biggest smiles on our faces at key moments?

If we have a canoe that's on the large size for what we need, we might smile as we take out that friend who would never be comfortable in a smaller canoe. 
Or we might smile as we pile in ever more firewood ahead of a camp.
Equally, we might smile most if we choose a smaller canoe and feel comfortable getting out when the wind has got to a level we'd have found miserable in a more wind-affected canoe.

We might smile most at anything from the elegant lines and glorious finish on the woodwork of our canoe to the thought that it's a classic design which connects us to canoeing traditions going back 150 years and more. If we've gone ultra lightweight, we might even find ourselves smiling most when it's time to tote our canoe on our shoulders.
In time, many of us come to like the way our canoes handle: the responsiveness to every stroke, the glide as we surge forwards, the carve as we maintain our momentum through a turn. For others of us, such things never become significant as they are not reasons why we go boating!

WHAT GETS IN THE WAY OF A SMILE?
In practice, few of us smile at the thought of carrying our canoe - but if we can smile rather than shudder at the prospect of having to lift or manhandle our canoe to and from the water or around obstacles, we're likely to be happier!
Can we get around the challenges of manhandling our canoes with great canoeing buddies to help us? Yes - so weight and ease of handling may be just one consideration among many!
Durability can help us smile. In extreme cases, a harder-wearing canoe can mean we really don't have to worry about everyday bangs and scrapes.
At the very least, knowing our canoe can take knocks can take worries away if we're lending our canoe to a friend or if we're not really sure what we might find on our route!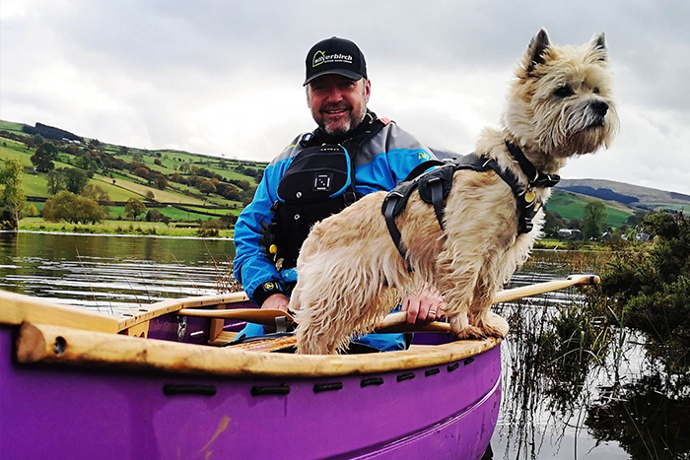 Now the big one: even if we're not hung up on how fast or responsive our canoe can be, our smiles and joy may still come, in part, from how well our canoe handles - as we all struggle to keep smiling if we're having to slog harder than we wanted, or if we've been fighting ridiculously hard to get where we wanted to go!
If we are buying a canoe to put a smile on the canoeist we're going to be once we've been paddling it for a year or so, the verdict we care about is one from someone who doesn't yet exist - our future self - so at some point, we do just have to take a plunge!
WHAT WILL KEEP US SMILING?
Which canoe might we still be smiling about when we have gained loads more experience?
Fortunately, so long as we don't beat them up, our canoes hold their value really well. If we plan to handle and store our canoe really carefully, worrying about the future might not be such a big deal... 
If we plan to trade up when our aspirations and expertise change then we can perhaps skip looking ahead... but what if we want a canoe to "grow into"?
Looking ahead? Read our blogs on Choosing a "Trad" canoe or Choosing a New Touring Canoe - or browse our products!

If we're keen to think ahead, we might be drawn to a "trad" boat and to the romance of a craft which is "good enough" for everything from upstream travel and white water to exposed open water crossings and expedition paddling. Is this where our biggest smiles will come? For some, yes - but the compromises involved are not for everyone!
We can be drawn to using our touring canoe for anything from style canoeing or marathon racing to white water playboating or coastal sailing. If one of these appeals from day one, we might choose a well matched touring canoe to keep us smiling even if we get really bitten by that particular bug.