Nothing is more natural than growing to love the canoe we've got. As a rule, we grow to love the way we work with our own canoe - so any canoe will do, right? Well, within reason - but it's a lot easier to keep a positive mindset if we're not getting frustrated with characteristics of our canoe which limit how much enjoyment we get from our canoeing!
CHOOSING A TOURING CANOE
If canoeing appeals to us as a way to "get away from it all" and we are drawn to the freedom, independence and scope for exploration we find when we're on the water… we ought to be pretty easy to please!

On the right day, when we're in the right frame of mind… our canoe will be making a bit of magic possible...
As we're savouring each new experience, we might, like so many before us, also savour the characteristics and handling of our own, long-suffering canoe - and we may find we have even grown to love its curious little quirks.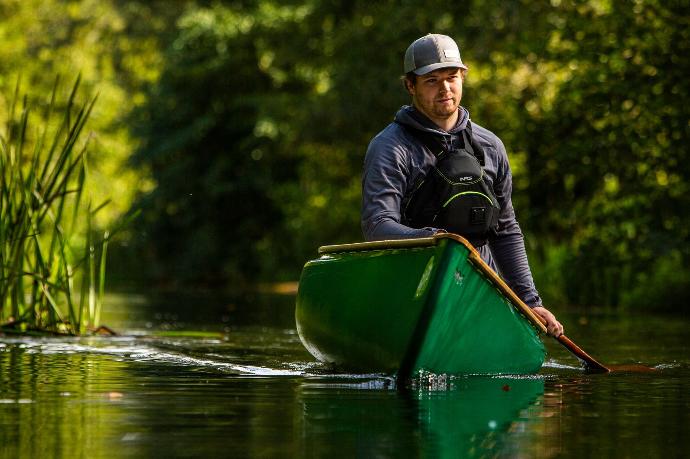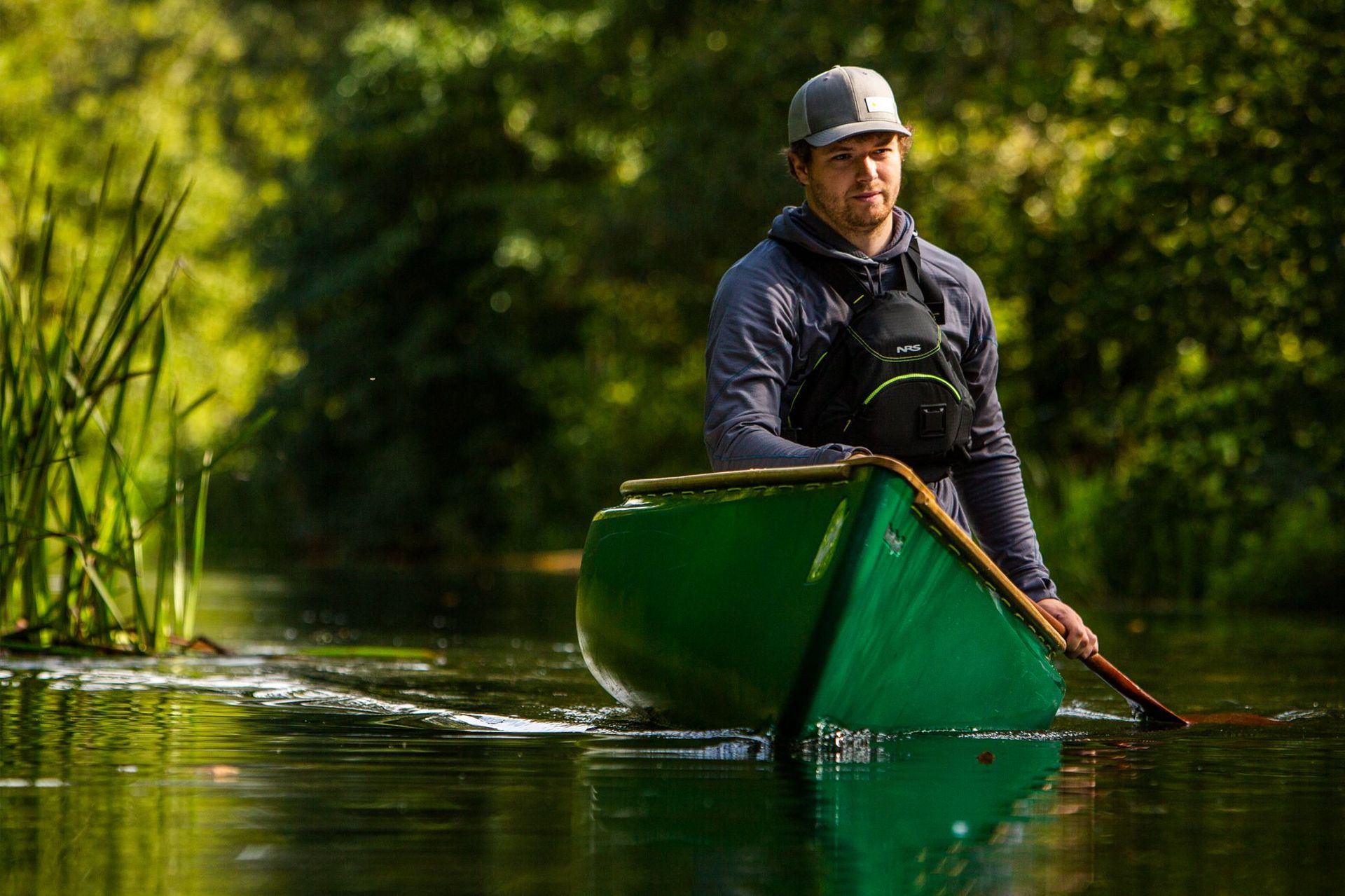 In practice, choosing a touring canoe can feel be unsettling, especially if we have to review our options using the language we've been able to relate to in the past, but we're hoping to get something more, or different, in the future. We generally end up combining insight from boat testing, expert advice and reviews.
Our "Choosing a Canoe: The Smile Test" blog looks at how we ensure that we have the biggest smiles at key moments, that we're smiling more for longer and that we're genuinely happy with the compromises we've accepted.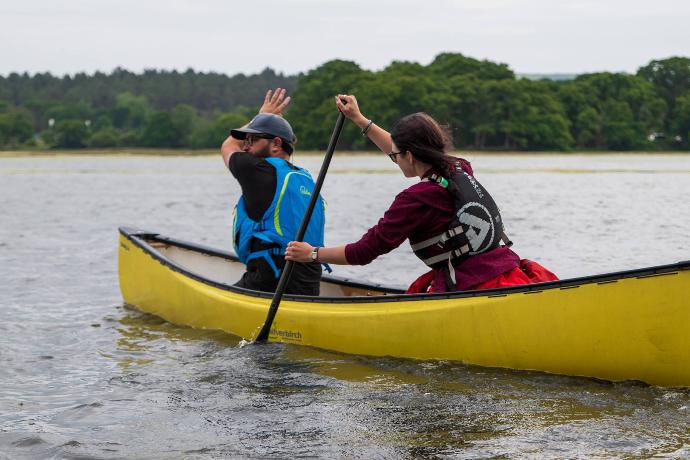 LESSONS FROM 'TRY BEFORE WE BUY'?
In theory, any of us can learn lots from trying out boats we've never paddled before… but in practise, what we learn can often tells us more about ourselves and about our canoeing friends than about the boats we test.
Should an inexperienced canoeist feel comfortable and in control of a canoe in a demo session, before taking the time to develop familiarity with the canoe and to develop the skills needed to handle the canoe?
Should we be able to judge what a canoe will be like for tandem use with friends and family if we only try it solo or with an expert paddler? 
Should we draw any conclusions about a canoe for touring if we only get to test the canoe unladen, at a venue without wind or current?
In practice, even veteran canoeists can struggle to make sense of a canoe through a "demo" session, not least because experience means we have pre-conceptions about how the canoe we are demoing "should" behave. Does that mean we shouldn't "try before we buy"? Not at all - but getting a lot from one can require a bit of planning (e.g. a good venue and a way of testing the boat loaded) and a bit of good fortune (e.g. a day with a bit of breeze).

Unless we're getting out doing exactly what we want to do after we've purchased our canoe, we're likely to find ourselves a bit torn between different options. A good, independent retailer can help, as can a good coach or fellow enthusiast.

TOP TIPS FOR BOAT TESTING?
On the one hand, we might want to prioritise what we'll be doing most of the time…and on the other, we might feel compelled to know how a boat will feel in the moments which really matters - so how do we make use of a demo session?
First things first - we really ought to know what it's like manhandling the canoe - so on and off a roof-rack or trailer, up a steep bank, on a long carry, plus launching and landing. If we're going to use a yoke… we should certainly test it!
At the other extreme, unless we're supremely confident, we should perhaps also insist on rescuing the canoe in a way that is meaningful for us, whether that's self-rescuing from the water, on a shoreline or from another canoe.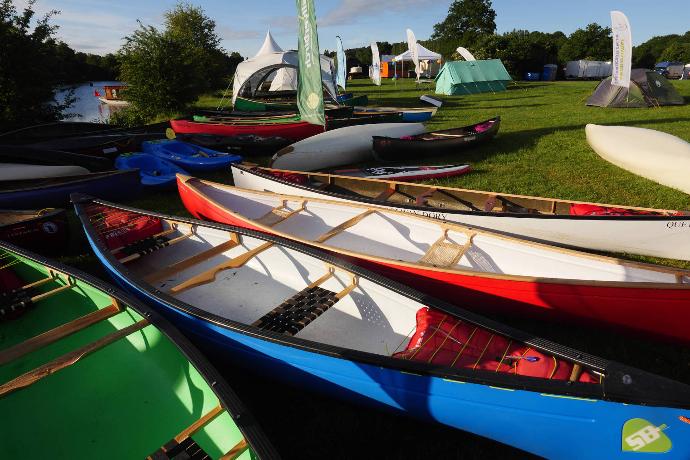 Somewhere between these two tests, we might want to establish how a canoe will handle with what we see as a variety of normal "tripping" loads. This might be simulated with anything from additional bodies to barrels of water, but should ideally be done somewhere that allows us to experience how the boat handles in the sorts of wind and current we might reasonably expect when we're out and about!
Sign up to our newsletter to get advanced notification of Paddle With Silverbirch Demo Days!
Last but not least, we might want to balance time doing "just enough" to handle our canoe in everyday circumstances, but also trying "what works" if we really push our skills - maybe upping the pace, edging further, turning more sharply or even putting the boat through its paces from standing. If we're not confident in our own skills, we might also want choose to witness, at close quarters, how others push those limits in the same boat.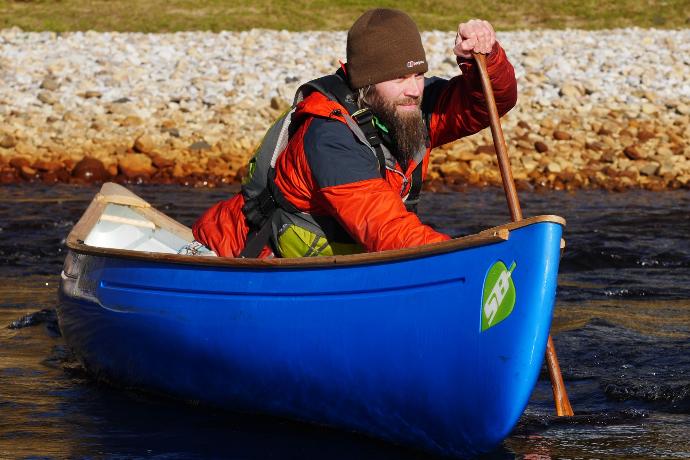 MAKING SENSE OF REVIEWS, ETC.
Getting value from the views of others is something most of us do all of the time, and the issues we face are almost always familiar. Views reflect pre-conceptions, and vary in both authority and relevance - which is just fine! 
As a rule, other people's views are mostly useful in prompting us to look more closely at specific things (e.g. secondary stability, or handling in quartering waves when fully laden).
As in other walks of life, views can be particularly valuable when backed up by insight into why something makes sense… but as ever, even genuine authority and legitimate explanation can lead us astray. 
Classic issues with taking reviews at face value start with kneeling-paddler reviews being picked up by those who only want to sit… and vice-versa. 

Reviews from solo paddlers can have limited relevance to tandem paddlers. Equally significantly, even where outlooks are pretty much aligned, how boats are experienced and handle can vary hugely with paddler size. That's all before we get to how differences in outlook shape perceptions judgements!

Beware: reviews from solo paddlers can have limited relevance to tandem paddlers, and even where outlooks are closely aligned, how boats are experienced can vary hugely with paddler size. That's all before we get to how differences in outlook shape perceptions and judgements!