Even if you don't paddle serious rapids, you'll benefit by knowing the ways of whitewater sport paddlers. But keep an open mind as you learn, for what works best in a short, sport canoe can be dangerous in a long backwoods cruiser.
RIVERS - GREEN FLOW AND BEYOND
If we are just starting out or we want to go touring on lowland rivers, we might just get started the same way we would if Outfitting a Canoe for Touring and Open Water - with outfitting which might suit us everywhere.

In practice, even easier river canoeing tends to mean different priorities, especially where our rivers contain shallows and/or portages.
On rivers, we might be less worried about ourselves than we would be on open water (because we always have a river bank nearby), but we might have concerns about our boat and kit (because the flow can take them).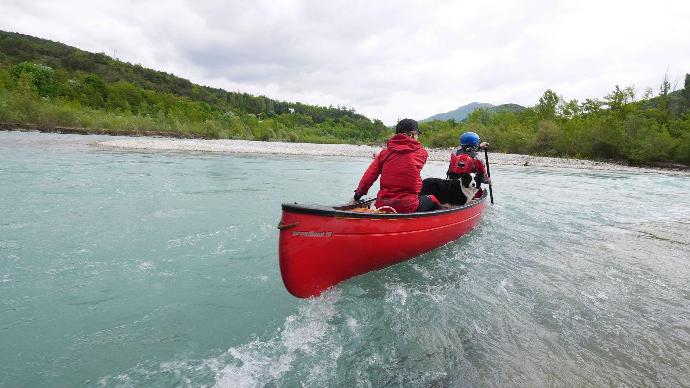 As on open water, our outfitting is a poor substitute for skills and experience, but some outfitting solutions do keep more options open than others. This can have value if we ever end up in a situation we haven't anticipated, or unable to make our plans work as expected, including following a capsize!
A traditional canoe outfitter might supply everything needed for a trip, but when we talk of outfitting a personal canoe, we're generally meaning everything from Painters, Swimtails and Swimlines to touring and tripping options like gear tie-down points and additional flotation.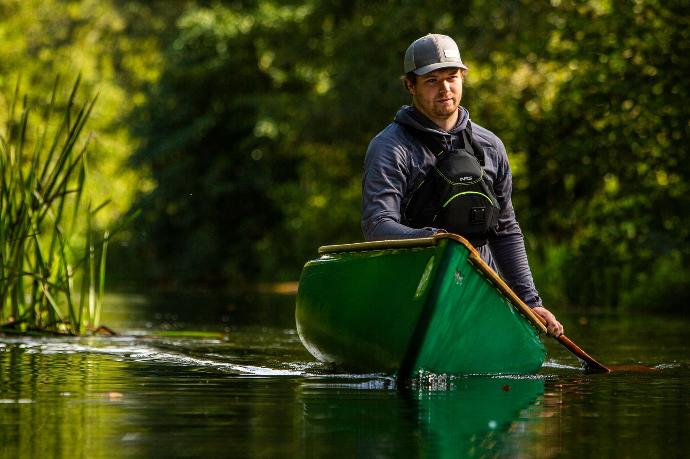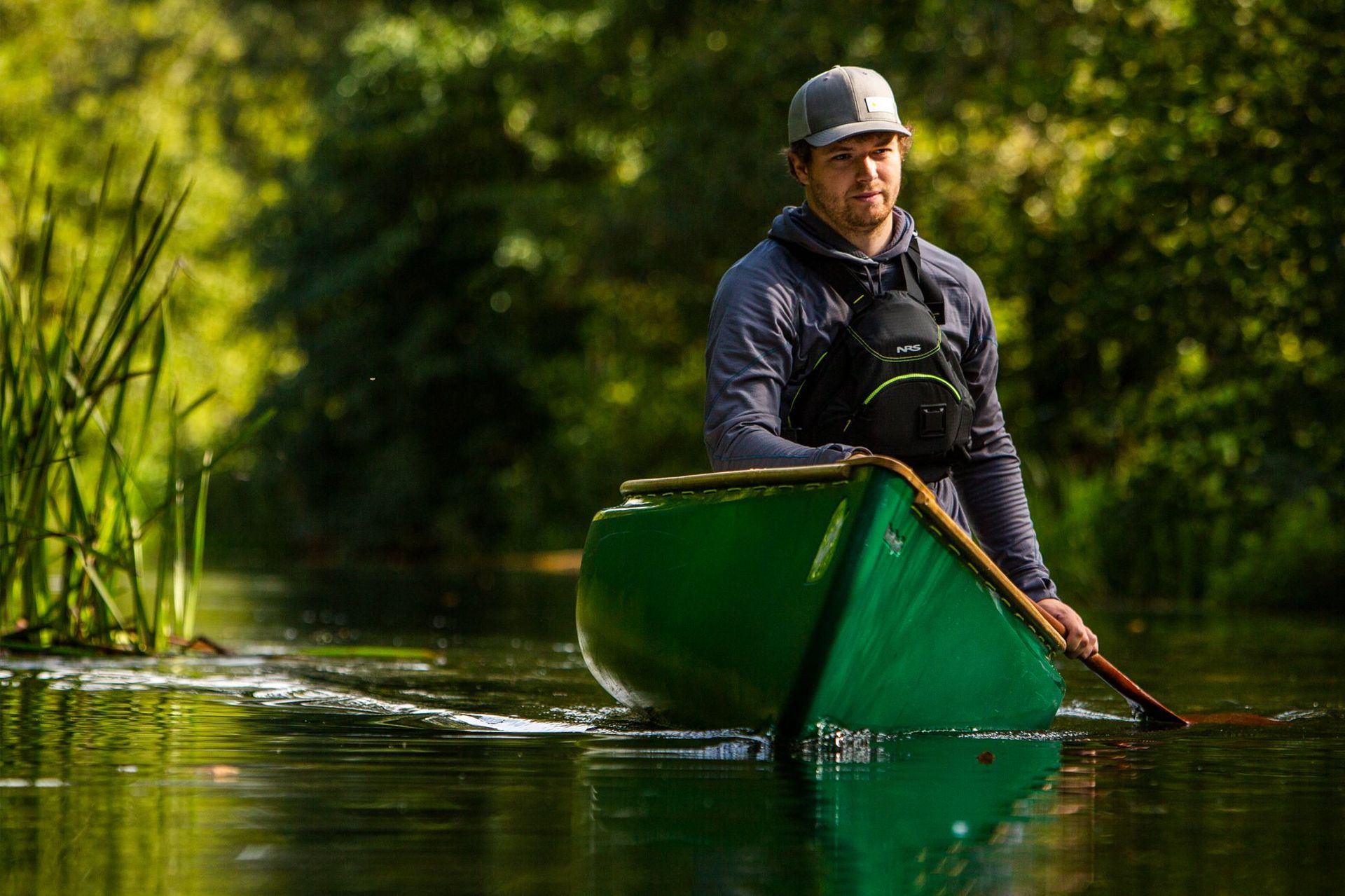 OUTFITTING FOR RIVER TOURING
Outfitting is mostly just setting our canoe up to make life as convenient as possible in all the situations we might be envisioning, including in situations where we're sorting ourselves out after a swamping or capsize.
If we're touring in places where we can just stand up, or where we can easily get onto the riverbank… pretty much anything might suffice. For our personal safety, we might simply think of ourselves as wild-swimmers.
As supplied by the manufacturer, canoes will generally float, but at a level that makes them difficult to manage and vulnerable to damage.
For deep-water river canoeing where access to riverbanks might be challenging, we may want our canoe set up to make it easier for us to self-rescue, or at least for others in our group to help us in the event of an incident. That might involve deciding if we want our gear Lashed, Leashed or Loose.
If we're starting out, we might manage with nothing more than our PFD, our canoe, and our paddle. But even on a first trip, we might like to carry a portage trolley, a dry-bag or barrel for personal effects (e.g. keys, mobile phone, camera, spare clothes), and a spare paddle.
OUTFITTING FOR TRAD JOURNEYING
Pretty much all of the more serious outfitting guidance we find on the web is for those who want to get out, upstream or downstream, on a range of rivers.  
On lowland rivers, our outfitting priority might be ease of shoulder carrying or trolley portaging around fallen trees, weirs, locks and floating booms.
Fast flowing rivers can add entire new dimensions. Above all, we might want to ensure our canoe is tidily outfitted, to be free from entanglement hazards.
On faster rivers, we might also want to contain our kit in larger portage packs or barrels, and to secure our spare paddle (e.g. under an airbag).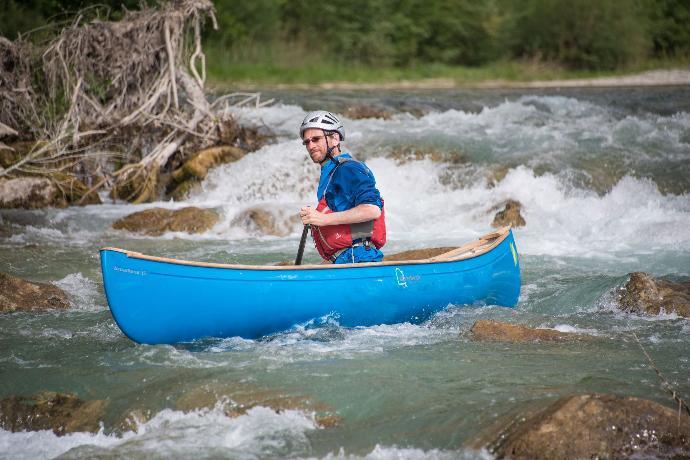 If we want to we start using classic "trad" skills to navigate our faster flowing rivers, we might also set up our canoe for poling, lining and tracking. All of these are possible with a bare-boat, but endloops and a custom bridle are commonly favoured.
Conventional approaches to faster-flowing rivers typically start with lacing to fit additional flotation in the bow and stern to minimise the risk of a capsized canoe pinning or wrapping around an obstacle. Flotation doesn't remove the risk, but it can and does save boats from damage.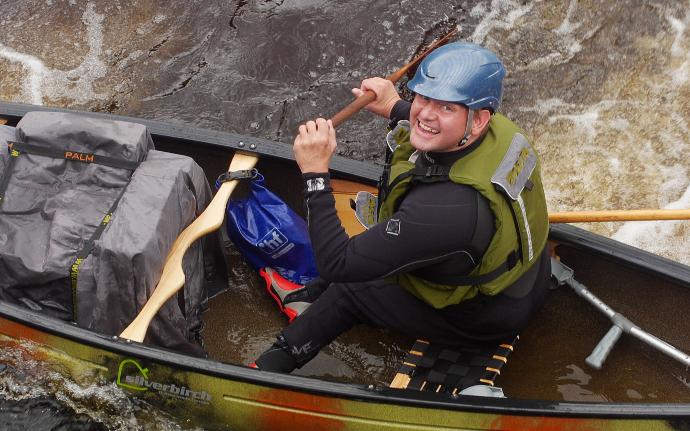 ADJUSTABLE OUTFITTING?
If we outfit with endloops, full length lacing and assorted d-rings, we maximise flexibility for lashing in gear and for fitting or adjusting additional flotation.
A larks-footed tape sling can provide an easily relocated swimtail, what we carry as a "pin kit" can be clipped in as a removable painter, and bungees on our deck plates can help us add a throwline as an improvised swimline.
With a little care, we can have our canoe set up so that we can strip it back to a bare boat (or replace outfitting) in a matter of minutes.
For the ultimate versatility, some of us even prefer a removable thwart or yoke.
If it's easy to switch from a solo configuration to a tandem configuration, we're more likely to do what makes more sense and keeps us comfortable. For classic "trad" boaters, that might mean two large end-airbags when soloing, but two small end-airbags and a large centre airbag when paddling two-up.
When removing, refitting and adjusting outfitting, we have a perfect opportunity to inspect for signs of wear and to minimise entrapment risks. E.g. ensuring hands cannot be put through endloops, and that airbags will remain securely in place in a swamped or pinned canoe.
FULL WHITEWATER OUTFITTING
If we're planning ahead for things to come, we might want to start out with strong endloops on a boat with either partial or full lacing, plus additional flotation and some combination of Painters, Swimlines and Swimtails.
As the water gets faster, the "clean line" principle becomes even more critical: it applies everywhere, but the environment means the likelihood of entrapment goes up AND the probability of severe consequences goes up.

The Clean Line Principle started with removing loops from throwlines (1990s) and is that we should minimize or eliminate entrapment hazards.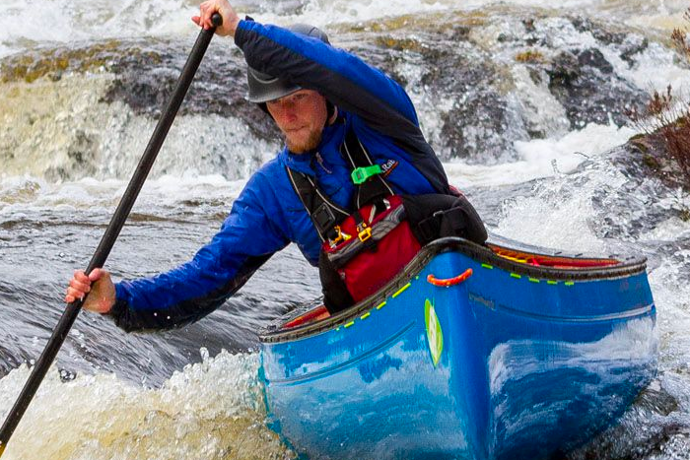 Note: on harder whitewater, clean line principles should extend to clean boats (meaning what dangles down below the gunwales if a canoe is upside-down), through clean personal kit (e.g. carabiners on buoyancy aids) to clean everything-else (e.g. looped straps on packs).
Last but not least: our outfitting ought to work for how we want to go about Handling and Transporting Our Canoes. If we're portaging, what might need to be held tight, or easily removed? Do we need to accommodate a trolley? Do we need painters as tie-downs?