If we are choosing a canoe, one of our first big decisions will be trim. Our choice sets the tone for everything else, and also has implications for everything from weight and handling to care and maintenance.
TRIM LEVELS IN CANOEING
Most manufacturers offer canoes at different trim levels. This is a way of highlighting the aesthetics of canoe choice… but in canoeing, most trim choices also have significant practical implications!
Where options such as lowline, standard or highline trims are available, differences will be felt both on and off the water.
In addition, choice of trim can have implications for handling, maintenance, care and storage of canoes, especially where wooden components are preferred to synthetic materials such as aluminium or vinyl.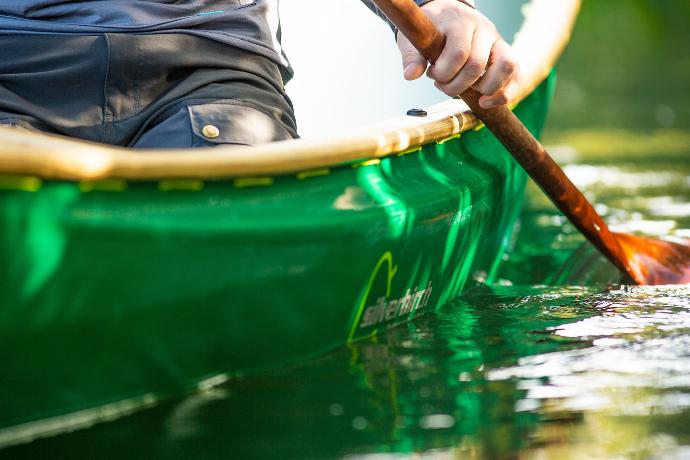 In Parts II and III, we'll move on to seats and then onto thwarts, including sailing thwarts and kneeling thwarts… but we'll start with the bits that are hardest to change: the depth at which the canoe is trimmed and the style of gunwales which are fitted.
In traditional canoe building, each hull gets hand crafted. Customisation remains commonplace. Silverbirch Canoe continues this tradition, finishing each individual canoe to customer specifications through team of paddle-sport enthusiasts at a dedicated production facility.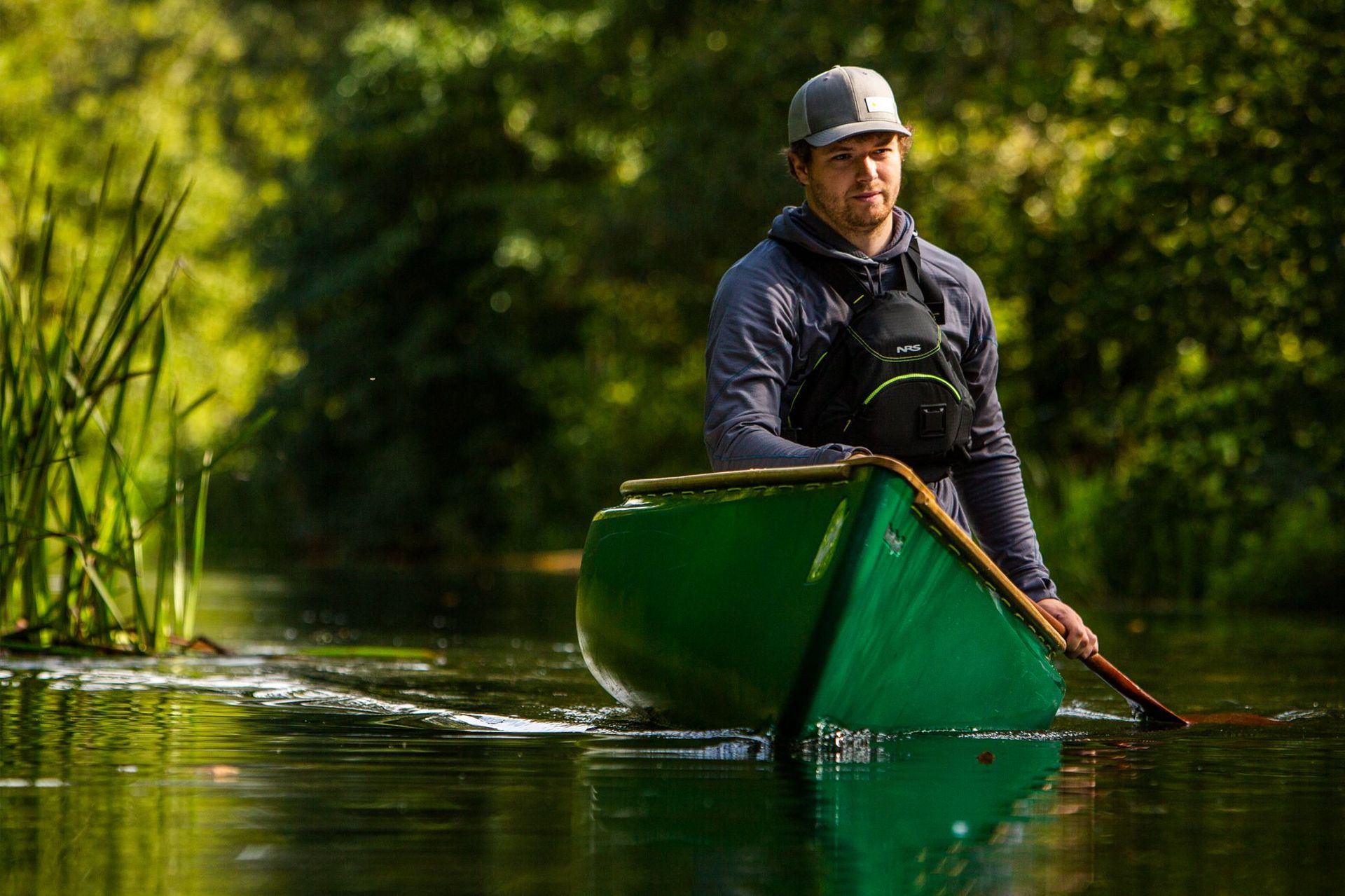 VINYL VS ALUMINIUM GUNWALES
Aluminium has been used for canoe gunwales for decades, and in recent years, black-anodised variants have become commonplace. Many like the minimalist aesthetics, especially on a composite canoe.
Vinyl extrusions vary enormously, but at their best, they add necessary stiffness to the hull whilst retaining the flex needed to absorb impacts. Although they can mark, they will generally last the lifetime of the canoe.
Unfortunately, once bent out of shape, aluminium gunwales can be almost impossible to get back to their previous shape. By contrast, vinyl tends to be springy-enough to return to its original shape following minor incidents.
For those storing boats outdoors, vinyl and aluminium may appeal as low-maintenance options. In the event of damage or degradation (unlikely), either can be replaced by anyone able to remove and replace rivets.
Gunwales typically terminate in plastic or wooden endcaps. Every vinyl gunwale fitted to a Silverbirch Traditional Canoe is matched with custom-shaped polyethylene end plates and ash handles to give a durable, low maintenance outfitting option.

ASH (WOODEN) GUNWALES
As a rule, the trim of choice for a high-end look on canoes has always been wood. Even where vacuum-infused rails are added to a high-end composite canoe, a veneer of timber may be added for aesthetic reasons!
Many different timbers have been used to make wooden gunwales. Tried and tested options include red and white cedar, spruce, cherry and ash. Preferred looks have been achieved with a variety of oils, varnishes and epoxies.
Oils give the most easily maintained finish to wooden gunwales, but for best results, these should be re-oiled regularly when new, and at least annually thereafter. Varnishes and epoxy finishes last longer, but are harder to refresh.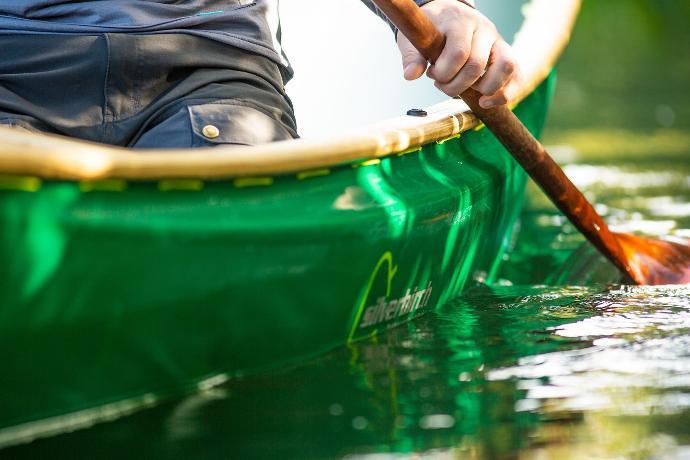 Compared with aluminium or vinyl, wood is typically warmer to the touch in the depths of winter, but also less prone to be scorching hot in summer. The resulting gunwale can also be significantly lighter than vinyl alternatives.

Every ash gunwale on every Silverbirch Traditional Canoe is hand finished then matched with ash end plates and ash handles. Every piece is oiled by hand to give a beautiful, natural finish which is also several kilos lighter than the vinyl alternative.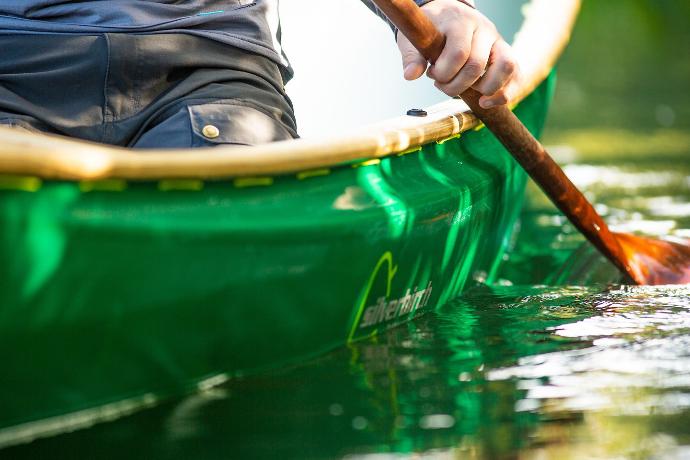 STANDARD OR "HIGHLINE" TRIM
As a rule, designers and manufacturers offer "standard" specification canoes to suit the majority of anticipated paddlers and purposes, but centre-depths still vary from below 30cm (12") to above 40cm (16").
No matter what canoe is being considered, high-line guarantees two things:
Increased boat-weight as sidewall-depth increases;
Vulnerability to swamping despite any additional sidewall depth; 
In practice, few of us want to be in situations where a "highline" cut is critical!
For most solo and tandem canoeing purposes, any advantages of a "highline" over a "standard" edition is likely to be minimal, but this can change if we expect significant loading around the bow-seat position in a tandem canoe in exposed open water and in sustained, big-volume whitewater.

Choosing "Highline" adds between 10% and 12% to the weight of a Silverbirch Canoes Firefly 14 (depending upon construction), and adds 4Kg (8.8lb) to a Silverbirch Canoes Broadland 16 (in all constructions).

CUSTOM AND SPECIALITY TRIMS
Anyone familiar with the world of wooden canoe building will sooner or later come across scalloped inwales: shaping on the gunwale section on the inside of the hull to provide scuppers through which water may be drained.
Some are drawn to the aesthetics of scuppers, and perhaps to the practicality of having slots through which other items may be laced, leashed or tethered. Others point to the reduced risk of rot in a boat that dries out more easily. 
Scuppers come with downsides, such as expense and harder maintenance, but make sense in wooden craft which need to be fully drained before being stored sunny side up rather than inverted.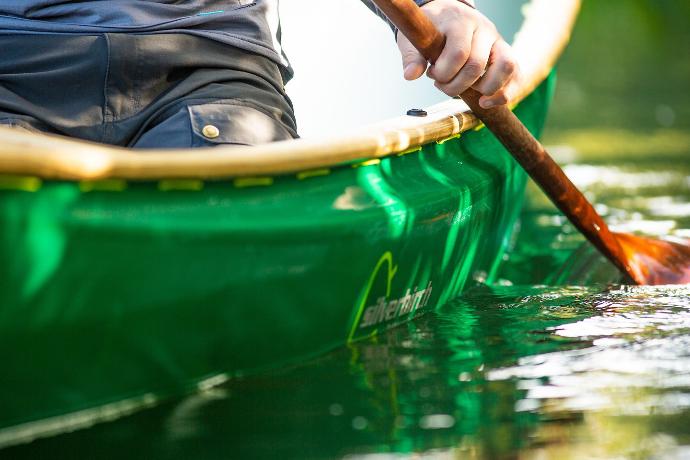 Since 2006, new speciality trims have emerged within high-end composite canoe building. Most are ill-suited to canoes built in other ways as they involve a vacuum-infused rail (typically carbon and aramid) around a non-structural foam core. Variants have included a cork core. Weight savings over wooden, vinyl or aluminium gunwales can be significant, and the aesthetics and minimal maintenance requirements get touted as selling points.

With appropriate tools for splinting, field-repair may be practicable with wooden gunwales. The likelihood of damaged gunwales sufficing without repair is perhaps highest with aluminium, but vinyl is most likely to survive abuse without needing repair. Aluminium and vinyl are generally the easiest to replacement. Major repairs to infused rails can be more involved, and may require a return-to-factory arrangement.