Over the past decade, manufacturers have redefined what is possible in Polyethylene, pushing the limits of new polymers, material distribution and moulding cycles to offer unforeseen levels of stiffness and durability
ROTOMOULDED POLYETHYLENE
Rotomoulding has traditionally been favoured as a cost-effective way of producing small runs of everything from complex, hollow-form components through to one-piece, larger items such as playground equipment.
Moulded products can be made with recycled materials for use in low stress, UV-free environments, but also with state-of-the-art polymers for single layer and triple-layer products used in the most demanding of environments.
Rotomoulded recreational kayaks first appeared in the mid-late 1970s. Today, High Density Polyethylene is widely used for everything from recreational market "traditional" canoes through to specialised white-water canoes.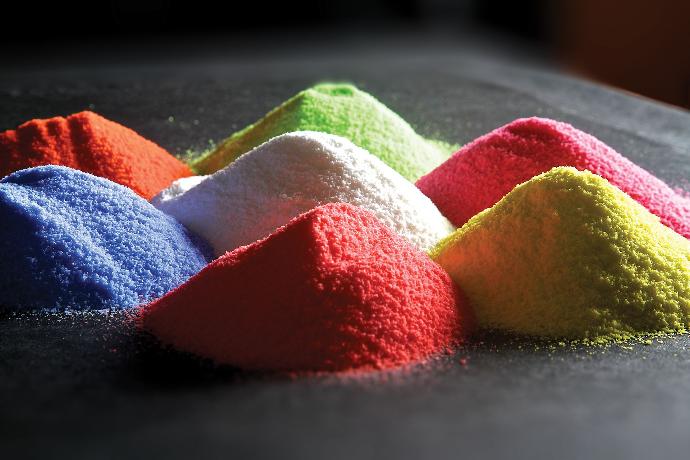 Today's rotomoulding, recreational watercraft products range from surf skis and sea kayaks and ocean rowing craft and sailing dinghies. At the top end, these come with custom textures, fades, graphics and artwork, including on bespoke and custom products.

Rotomoulding was first developed in the 19th Century, and has been used for moulding in plastics since the 1950s. Although used to mould polycarbonate, polyester, and nylon, it is most famously used for moulding Polyethylene.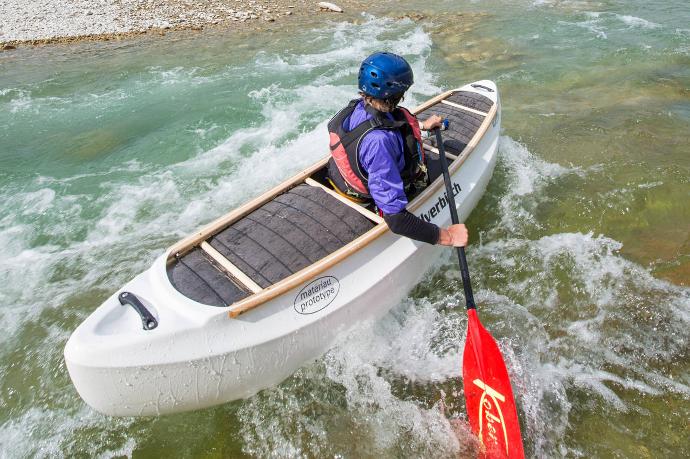 SINGLE LAYER PRODUCTION
Single-layer Rotomoulding distributes a single polymer around the inside of a mould, and cutting edge production uses techniques such as powder-fencing to manipulate polymer-distribution and achieve engineered-strength.
By carefully optimising mould-tools, production cycles, materials and cooling processes, wall-thickness can be minimised where careful design reduces the need for materials-based rigidity.
Single layer rotomoulding is common in specialist white water canoes because other design features (e.g. a bulkhead) can provide stiffness in a hull which is engineered to be lightweight yet durable.
Traditional canoes are less suited to single layer rotomoulding because even using the strongest high density polyethylene, the stiffness required in the sidewalls and in the floor of the canoe would require extreme material thicknesses, and this is better achieved with three layer (sandwich) construction.
Optimising products for use in two different ways might allow approaching 20% variation in product weight from the same mould. For example, the Silverbirch Canoes Covert 9.3 Duratough (for the harshest steep creeking) weighs 23.5Kg (51.5lbs), whereas the equivalent Hydrolite model (in the same plastic, but for river running and slaloming around rocks) weighs 19.5Kg (43lbs).
THREE LAYER PRODUCTION
If a product needs to be light, stiff and impact resistant, single layer approaches may need to give way to approaches which combine higher-density inner and outer layers into a three-layer sandwich construction.
The middle layer of a three-layer Polyethylene sandwich should be a "foaming" layer that can hold the inner and outer layer apart, but which also bonds the layers together to maximise rigidity.
The high-density polymer on the outside of the three-layer canoe provides abrasion resistance, whilst the inner layer provides impact resistance.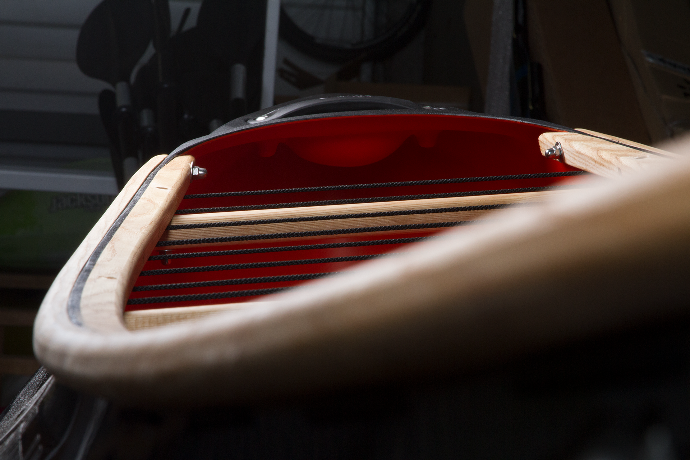 In top-end canoes, the three layers used in the construction should bond together both mechanically (because the oven cycle was optimised) and chemically (because the Polymers were optimised). Good manufacturing processes achieve this consistently and reliably, but this does come at a cost (e.g. materials, time).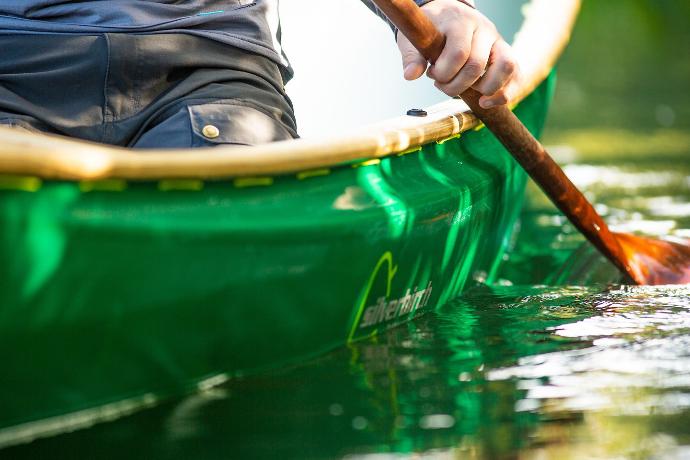 TAPERED FOAM TECHNOLOGY
Tapering the thickness of the middle layer allows weight to be reduced where rigidity is less critical whilst retaining wall thickness (for rigidity) where "engineered strength" is a priority.
In traditional canoes, any taper might be most notable just below the gunwales, where the foaming layer might become thinner than the inner and outer layers.
In almost any well-designed canoe, maximum thickness is likely to be found in the stems (the ends), but increased wall thickness should be evident anywhere structural rigidity is important.
Fortunately for open canoe enthusiasts, engineered strength can be achieved through a shallow arch on a narrower hull, especially when that is combined with a progressive rocker line and shouldered tumblehome.  This can mean reduced wall thickness (and weight) on more streamlined boats.
By using tapered foam technology with a higher-grade foam layer, Silverbirch Canoe's Duralite construction offers greater wall-thickness (and therefore rigidity) with reduced weight when compared with the company's more conventional Duracore+ construction.
ENVIRONMENTAL SUSTAINABILITY
All Rotomoulded Polyethylene products have a significant carbon footprint, but over the lifespan of any well-designed product, this can be reduced by:
Making the longest lifespan product possible, using advanced, strong and tough, UV-stabilised, abrasion-resistant High Density Polyethylene

Minimising scrap and wastage in production, including by slowing down the moulding process below traditional industry norms


Recycling any waste into products which are well-suited to the compromised properties of the reground plastic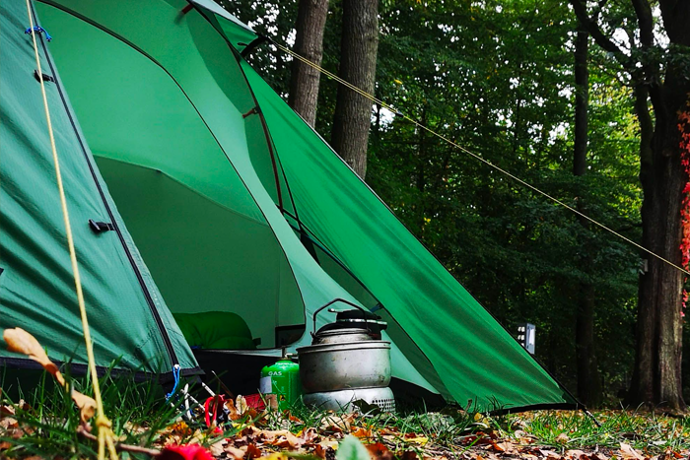 Beyond the factory gate, the lifespan of a rotomoulded Polyethlene canoe can be massively extended through respecting good practice both on and around the water, including from handling and transport to care and storage. Where necessary, lifespan can also be extended by taking advantage of how effectively many types of accidental damage to HDPE can be repaired (even following a major incident). 
Making canoes and kayaks from recycled plastic is possible, but might lead to a 40% reduction in durability, and to an increase in rejects because of variability in the recycled material. The carbon footprint of recycled canoes and kayaks would be higher than using fresh plastic!